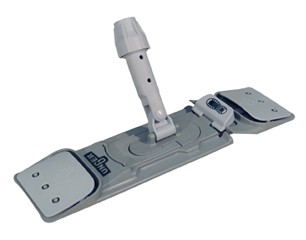 "Drop and Mop" Feature: 
The new "no spin" design allows the user to quickly drop the mop down and start working.
Flat Mop Holder with pivoting, low-profile head.
Unger mops fit securely to stay on mop holder during wringing.
Large 16" surface provides more direct cleaning contact, more scrubbing pressure.
Easily collapses with the touch of a button to rinse or change mop head.
Use handle socket with cone or tapered handles from 21 to 23 mm diameter.
SPECIAL OFFER
Product 5
Lorem Ipsum is simply dummy text of the printing and typesetting industry. Lorem
25% OFF
JOLLYTRASPARENTE e TIXOGOLD